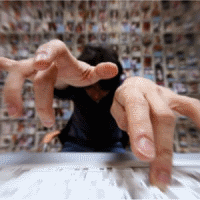 How fast can YOU type?
Test your typing skills and speed with our online typing test tool. Register and save your results, view graphs, compete with others. For FREE.
Learn to type
Learn how to type with our online typing tool that guides your through learning how to type with ten fingers.
With our custom-made exercises, you will be able to learn how to type properly and correctly with all your ten fingers.
Typing contests
Everyday, a new typing contest in your language. Register and participate now, and test how is your typing score compared to others.
Everyday a new text is available.
Typing test
Test your typing skills and see them improve over time. Register and get some statistics on your speed (WPM), accuracy (errors) and your own problematic keys.
All FREE.
Compete!
Compete with others: start typing, take part to our daily competitions and beat all the other guys from all over the world in the race to find who types faster! Enjoy the fun!
Awesome features
Success story
This service is great: I was able to manage my 330 students in a snap, monitoring their results and their progress while they were following my class courses. I do not understand how I have done without in all these years.

Gerhard Bohrer, teacher
Other features
Discover what we also offer.